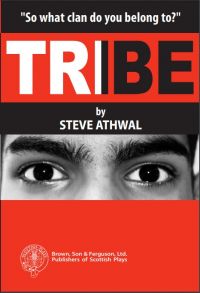 Tribe
By Steve Athwal
Price:

£10.00
Item attributes
ISBN:

978-1-84927-125-7

Published date:

First Edition April 2022

Acts:

5

Females:

0

Males:

0
Item details
Scottish Play: No. 86
A play about belonging, about identity.
Taran, a Glasgow born Asian teenager moves to an unnamed provincial Scottish town with his family, where he experiences racism from a pupil whose father is active in a far-right organisation. There are racists in Taran's household too, and during the course of events he encounters an Asian gang who hold as extreme a set of views as the far-right group.
The play examines prejudice from differing perspectives, highlighting the complicated nature of bigotry and hatred. The play strives to give voice to an aspect of Scottish culture never normally heard, lost as it is amongst the clamour of the polarised views of race and religion, set in a country which is itself struggling to find its way out of the blight of Sectarianism.
The play asks what it means to belong, what it means to feel that one has a tangible identity, and how different tribes find commonality in shared beliefs. The play is about diversity and equity and is about finding a way of living that is not driven by birth, geography or the value system of others.
Cast - 24 in total